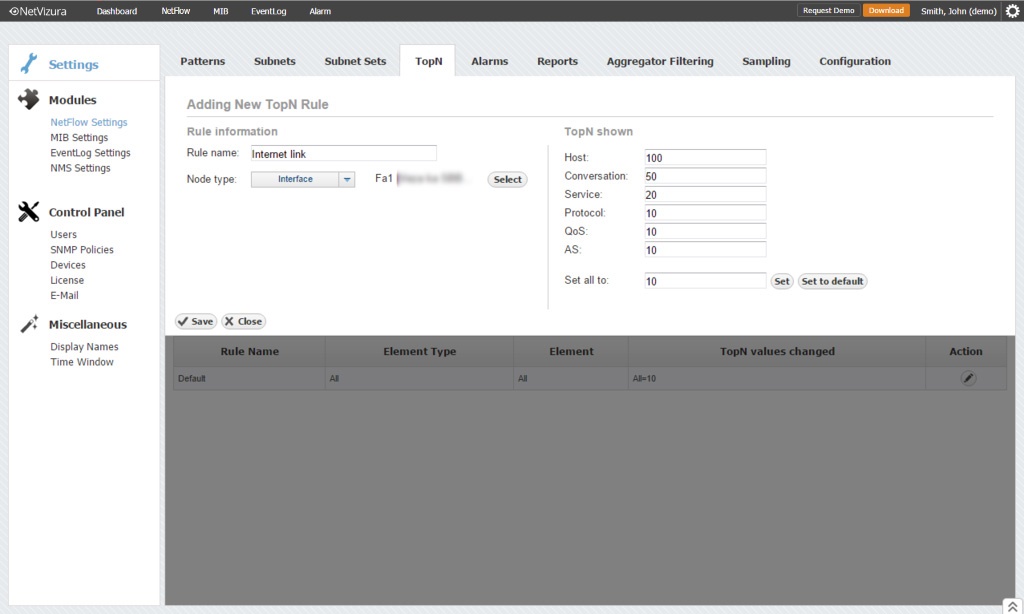 Flow Sampling & Filtering

Collect, process and analyze only what is necessary.

Simply export a sample of the NetFlow data from a device, but get a realistic traffic by multiplying it with sample ratios. Filter out unwanted traffic by creating filters based on exporter IP, source and destination IP or port, interface or protocol.

TopN Rules

Fine-tune specific traffic granularity according to your need.

If one node is more important than the rest, create a specific TopN rule to change the number of it's monitored top talkers. Default top talker number is 10, but you can create rules for any monitoring distribution on any node (eg. hosts on a specific interface).

Data Management

Manage database and archive size automatically by setting grains, size and conditions for deletion.

Historical traffic data is stored in the Database and historical flow records are stored in the Raw Data archive. Database aggregates data automatically to maintain reasonable size. Newest data will show up as 5-minute grains, data older than two weeks will show up as 30-minutes grains, and data older than 2 months will show up as 3-hours grains until deleted. In this way you get the finest data for the most recent events, while you are still able to see monthly and yearly traffic trends without consuming too much space for the database.