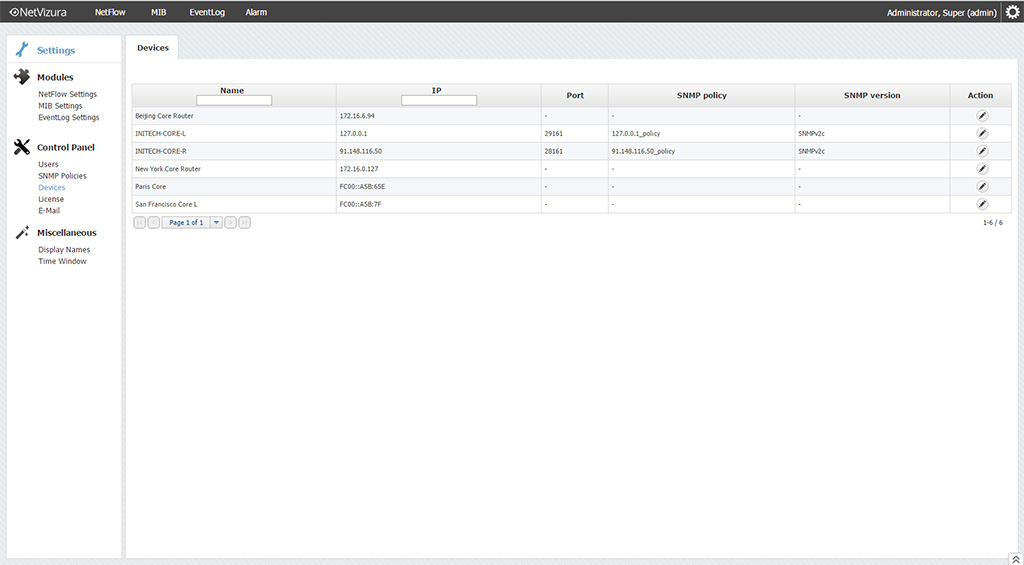 Multi-Vendor Support

Collect NetFlow from Cisco, Juniper, HP and many other vendors.

Any device capable of exporting in NetFlow v5, v9, NSEL, IPFIX® and sFlow protocols is welcome in NetVizura. As IPFIX is standardised netflow-like protocol, it is common for devices to have the ability to export in IPFIX format. Nexthop, IPv6 and Autonomous system fields are supported. Note that nexthop is usually not exported by default, IPv6 is exported by Cisco NetFlow v9 and IPFIX, and Autonomous system number can only be exported by devices with a BGP table.

Few Devices

There is no more need for an additional hardware, that is expensive and difficult to maintain.

NetFlow leverages the company's existing infrastructure – routers, L3 switches, even ASAs, because NetFlow capable devices are probes "per se". With NetFlow enabled on just a few core devices and traffic segmented based on the IP subnets, you get whole network and network segment traffic visibility.

Any Device

No NetFlow capable device? No problem!

NetFlow data can still be generated by free NetFlow probes like Softflowd. With Custom Patterns and Subnets in NetVizura you can still segment your network traffic. Traffic is segmented by source and destination IPs to be analyzed by sites, departments etc.